pure electronic bliss
the past, present and future of
​armada named sound
---
Welcome to my world... Armada Named Sound is an idea that started around 2014. The concept is quite simple: Why imprison myself and my need to create by labelling my electronic music as a specific genre? Instead I decided to embrace the whole spectrum of electronic music. I compose, arrange, perform, mix and produce my songs, and my dear friend and partner in crime Christos Mavridis creates a visual story for almost every song. Female vocalists with different timbres, range and personalities
sing different songs, and everything comes together under the Armada sound, a mix of multi inspired electronica with a strong cinematic feel and frequent use of the wall of sound technique. Every song is special, for it is a story on its own.
Right now, I am gigging around London with Eli Kay on the bass, and three very talented vocalists: Nzilani Franq, Yeva and Sofia Woolfe.
Explore and dwell into my music, there is definitely something to entice your senses here.
​Spiros Maus
---
This is the part where I talk about myself, pretending that someone else has written this text. Here goes:
Spiros Maus was born in Athens, Greece, in a house full of books, records and movies. Grew up among the sounds of Wagner and Tchaikovsky, as well as pop/folk greek music of the 60s and 70s. After channeling the need for artistic expression in comic and book making he went to study the drums at the age of 12. Many bands and sessions came along, and then he studied sound engineering and music technology as well as sound design. Rehearsal and recording studios have been his playground for an entire life. After discovering the beauty of electronic music, he took up the synth and started composing his own original music. Music and sound is the equivalent of breathing to Maus, and he believes music is a universal language that can speak to everybody. He loves animals, dislikes religion and strongly believes in the power of the human race. Innovation, diversity, originality, positivity and love.
www.spirosmaus.com
Powered by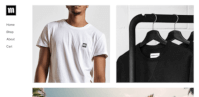 Create your own unique website with customizable templates.